We are one of the best manufacturers of Industrial Batteries, Tubular Power Batteries, Tubular Industrial Batteries, Car Batteries, Inverter etc...
About Us
Popular for our exceptional range of batteries, we, ABS Batteries Power Solution Pvt. Ltd. are enjoying being at the leading position. Our range includes Tubular Batteries, Tubular Power Batteries, Tubular Industrial Batteries, Car Batteries, Inverter etc. These are manufactured by using high grade raw material which our agents procure from certified vendors. Later at our premises, by the support of modern technology as well as imported machinery, a matchless range is produced. We do not directly deliver the assortment after the production process, but ensure each battery is tested by experts before the packaging process. Apart from our high quality array, customers like to make us their partners because of our habit of operating our business with truthfulness and strong ethics. This convinces them to choose us over the other companies. We have successfully carved a niche for ourselves as a manufacturer by introducing incomparable batteries which have received great recognition by clients. Our objective is to make our brand world famous with its quality and emerge as a global leader.
Why Choose Us?
There are many companies in the industry which are greatly experienced. However, clients choose us over them. Clients have observed that there are no hidden policies of our company about which they are unaware. We are 24*7 at their service, whenever they are in need. We also have a record of 100% customer-satisfaction as we have never disappointed any of our customers until today. For this, we are popular in the industry. Following are some of the other factors that convince people to choose us over others:
Prompt delivery system
Ethical trading values
Customer-focused approach
Reasonable price structure
Quality Assurance
After the manufacturing process, all the batteries we design are checked on difference parameters such as back up and durability. Our experts make sure that each piece is completely non-defective. Only after their approval, batteries are forwarded to the packaging unit and later delivered. If any piece seems doubtful to them and they are not satisfied by its features, it is sent back to the manufacturing unit. Quality is one of the pillars on which our positive image depends, so we always try to maintain high standards. We even strive to improve the quality of our Tubular Batteries, Car Batteries, Inverter etc., regularly to make our brand the very first choice of customers.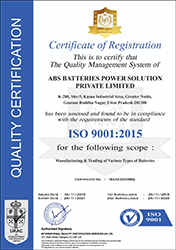 Get in touch with us